The teachers strive to create a safe, stimulating environment at Koru Kids, we understand and value learning through play, where the infants, toddlers, and young children have the time, space, and freedom to explore, make their choices, initiate and participate in a variety of learning experiences, take lead and contribute to their own and others learning and development. At Koru Kids, we also understand and respect the importance of transitions into, within and from the centre and support our children and families in this process. We strive hard to make our transitions Authentic, personalised, and unique. The unique place of the Maori as a Treaty partner is recognized through Te Reo and tikanga. We are consistently working towards authentically practising holistic views that Maori hold on teaching and learning. Celebrating, respecting and recognizing the different cultures, values, and beliefs of all our families is important to us and helps our families and children develop a strong sense of well-being and belonging to the centre. In fact, our childcare centre in South Auckland has been created with the sole focus of creating a well-rounded approach to the education and care of our young children and fostering the types of relationships that will help them grow and succeed in life as whole human beings. Our Kaiako are passionate, authentic teachers who pride themselves on their professionalism and transparency and understand their responsibility to grow further alongside the children and to be life long learners. Together, with the children and whanau, we aim to build a community that inspires, learns together, and has fun!!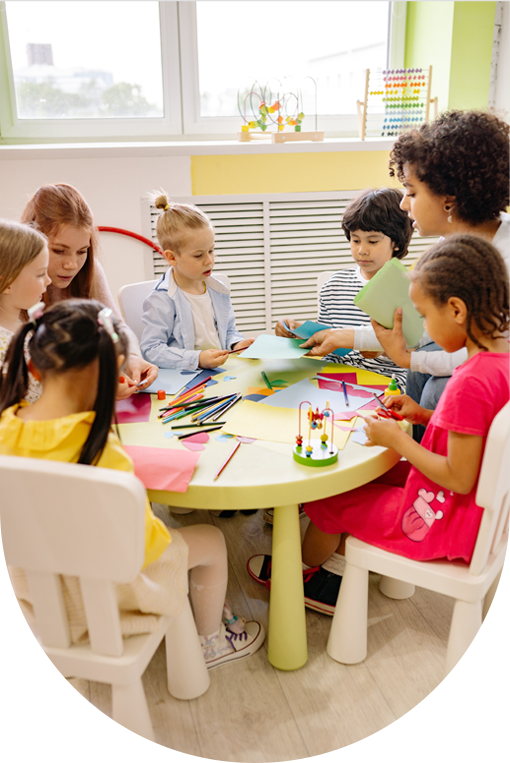 Kia Ora, I have over 17 years of experience in the ECE sector and hold a Bachelor in Early Childhood Education. We have 3 beautiful children, 17, 13, and 5. I believe it to be an absolute honour to be a part of a Tamarki's learning Journey. Building strong relationships with whanau who trust us with their most precious humans is a privilege . It is important to be able to provide children and our teaching team the freedom to create an environment where children can explore, take risks, build relationships, have a sense of belonging, and a place where they are celebrated as individuals and our incredible Kaiako have the freedom to grow as Teachers' and individuals within our learning space. That is why we are proud to be more than just a daycare centre in South Auckland; we are a home away from home that welcomes your family with open arms.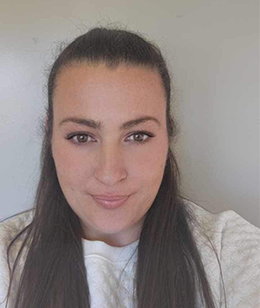 Valarie Tolich – Administrator
Kia Ora,
My name is Valarie Tolich, I have 2 children aged 14 and 8 years. I spend the majority of my time with and around family! I am a big family person, I am easygoing, always smiling, and I love to socialise. I enjoy working with children, they are so much fun, and it is so rewarding being able to watch the Tamariki in our community learn, grow, engage, develop new relationships with their peers, and have the most fun while doing so! It is my joy and honour to be a part of this child community centre in South Auckland, and I look forward to the many memories and experiences we will create while working together as a community. I have worked as an ECE Administrator for 6 years now, and I absolutely love my role. Both of my children were taught by teachers in this amazing team at Koru Kids ELC. I look forward to meeting more Whanau and Tamariki in our community.
I strongly believe that early education sets the path for life learning. As an Early childhood educator, I feel it is about creating that love for learning in the children. For me, it is about the process; it is about taking the time, about stepping back and understanding the process of learning/understanding. The path is more important than the destination. Coming from a culturally diverse background (originally from India), I am quite aware of the huge impact of culture and family aspirations in a child's learning journey. It is very important for me, and something which I constantly strive for is to work in collaboration with the child, the whanau, and the teachers to support the child's holistic development. For me, the "Ah" moment that the learner has is the most exciting moment. It reflects the learners excitement, the realisation of achieving a new goal, and their pride in themselves. For me, that sums up my role in honouring, encouraging and empowering that child, their family, and what they bring with them. Being in this sector for the past almost 15+ years, my passion for children, being with them, and learning something new with them is what keeps me going.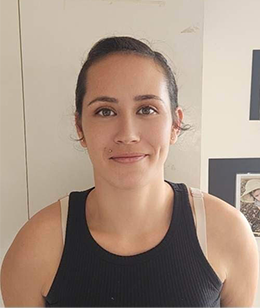 Jess Kingi – Nutritionist
Kia Ora,
Ko Jess toku ingoa.
Ko Napier ahau.
Ko TeHuki te marae.
Ko Takitimu te waka.
Ko Tutaekuri te awa.
Ko Mataruahau te maunga.
Ko Ngati Pahauwera te iwi.
Ko Nga Puhi te hapu.
Hi, I'm Jess, and I have the privilege of planning, prepping, and cooking all meals for our children at KoruKids working as the nutritionist cook. I have been passionate about cooking and children since a very young age. I have 5 beautiful children, ages 10,9,6 and 1-year-old twins. Things I enjoy doing are cleaning and cooking, and hanging out with family and my children.
Welcome to KoruKids!
Seema – (Mahira) Teamleader
Hi there, I'm Seema and I am a teacher in the Mahira room. My passion for working with children came at an early age and I am still in this profession. Still learning and loving what I do. I also have three children who have attended the Centres I have worked in. In my spare time I love to socialise with my friends and family. I also have a keen interest in cooking and baking.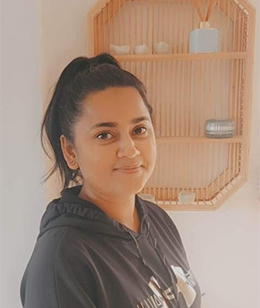 I have a qualification in level 5 diploma and have been working in Early Childcare since 2013. I enjoy working with children everyday as I strongly believe we learn and experience something new each day with our Tamariki. I was born in the islands of Fiji and have lived in New Zealand since 2002. Some of the things I love doing in my spare time are cooking and baking.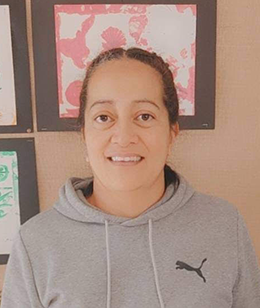 Lynsey Aldworth (Te Aroha)
Tena koutou katoa
Ko Tokatoka to maunga
Ko Kirihipi to marae
Ko Kaipara to awa
Ko Mataatua to waka
Ko Ngati Whatua raua ko Te Rarawa to iwi
Ko Lynsey ahau
I'm Lynsey and I am one of ngaa whaea loving and nurturing our babies in Te Aroha. I am a passionate advocate and facilitator of emotional well-being and social competence for our 0-5 year old's. What I love most is when I see our tamariki being able to work through their big feelings and help their friends work through theirs. Being part of your precious taonga and their early learning journey is my privilege and I look forward to welcoming you to our Koru Kids whanau.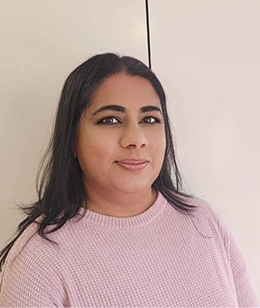 Praveena – (Mahira) Teacher
Kia Ora / Namaste!!
l am Praveena Chand, a qualified/registered Early Childhood teacher at Koru Kids ELC, and I have more than 10 years of teaching experience working with children. I am originally from western Fiji and am now a proud citizen of New Zealand. As a teacher, I believe in working together and building collaborative relationships with parents/ whanau; this is key to providing children with a meaningful learning experience.
I respect every child as a unique individual, trusting each child's ability to build their own personal knowledge and meaning of the environment around them. I am passionate about supporting each child to flourish, enabling them to learn how to live and enjoy life. I love my job in helping young children have fun, grow and develop as responsible, caring, and confident learners. I look forward to meeting you all and promise to deliver high-quality care for our tamariki and the whanau.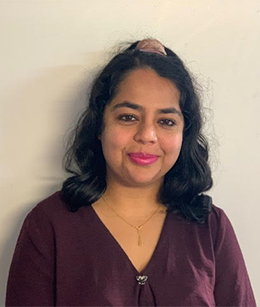 Shivika – (Pakiki) Teacher
I'm Shivika, also known as Vika. I have been on the Koru Kids team since I was a student, and now I am a certified early childhood teacher. I am passionate about what I do and love to work with children. I am very keen to come everyday and aid children in their learning and exploration. I am an explorer myself, which supports me in investigating a lot with the children. I set up the environment within the children's interest, and this gives me joy as well. I am very keen to research and implement the research into my practice. I am here to educate children as well as to educate myself, and I am very keen to learn about the children's different cultures. To me, being a part of an early learning centre in South Auckland that is so focused on the well-being and understanding of our children is the most important task I will ever undertake.
Tena Koutou Katoa Ko Maungapohatu to maunga Ko Waikotikoti to mara Ko Whirinaki me Whakatane oku awa Ko Mataatua to waka Ko Tuhoe raua Ko Ngati Whare to iwi Ko Serena ahau I am Serena and a mother of 7. For the last 14 years, I have been the primary caregiver for my mother who suffered from a debilitating disease known as dementia. Therefore, the notion of continuing with my teaching career was no longer a feasible option. However, I have been given the opportunity to restart my journey into the world of teaching, and I am privileged to be able to do this alongside you and your whanau. I believe it takes a village to raise our children, and I am humbled to be a part of the village that will uplift, empower and enable our children to reach their fullest potential. Welcome to the Koru Kids whanau.
Myself Amanpreet Kaur Kahlon. I am a teacher in Pakiki. I am from India (Punjab). I moved to New Zealand in 2016. I hold a master's in language(level9),Bachelor's degree in Education, Level 7 in Business management, and Level 7 in ECE. I am living in Nz with my husband and a handsome son. I am really passionate about teaching and love to spend time with children.
As an early childhood educator, I seek a close relationship with each child under my care, and their families. I firmly believe that every child is unique and has their own sets of unique skills and strengths and requires different kinds of support to meet their individual needs. I strive to provide an environment where children and families from different cultural background feels welcomed and accepted. Building respectful, trustworthy, responsive and reciprocal relationships are the key values that I follow in my professional and personal life.
I am dedicated to following and promoting the principles of Te Treaty of Waitangi in my teaching profession and believe to promote biculturalism as a crucial aspect of my practice.